Venkman Development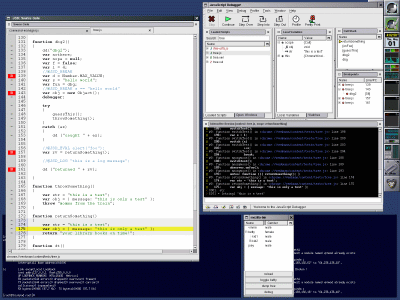 Venkman is the JavaScript debugger for Mozilla based browsers, such as Mozilla 1.x, Netscape 7.x, and Phoenix/Firebird. This page contains the latest Venkman news and development releases. Please see the main Venkman page for more information, and the Venkman FAQ for answers to common questions.
News...
James Ross is working on creating a Venkman XPI that once again works on ANY version of Mozilla. Check out bug #247507 and version 0.9.85 below.
Venkman is broken on the Firefox and Mozilla trunk, sorry. There is a regression in the tree code caused by changes to the Mozilla/Firefox tree widget. See bug 274082 for more information.
Trying to get Venkman working on Firefox? If you're using Firefox 1.0, try Venkman 0.9.84.
Svend Tofte has put together a comprehensive Venkman tutorial called ``Learning the JavaScript debugger Venkman.'' It leads you step-by-step through nearly all of the features in Venkman, and it's got lots of excellent screenshots to match the text. Plan to take a break and stretch in the middle though, it's a long one :)
Check out Netscape Devedge's new article, Using Breakpoints in Venkman.
Venkman now supports a tabbed view container, read the post titled ``Venkman gets tabbed views'' for more information.
I noticed this pro-Venkman post on a Microsoft™ usenet group the other day. Funny thing is, it's not on my news server anymore. Was it cancelled, or is this just a newsfeed hiccup? The world may never know :)
Read about extending Venkman in this netscape.public.mozilla.jsdebugger post titled ``overriding filenames in the loaded scripts view''.
Netscape DevEdge has posted an Introduction to the JavaScript Debugger.
Current Release...
The Current release of Venkman can be found on addons.mozilla.org.


Older Releases...
Click the one of the links in the install column to install Venkman using XPInstall. These XPIs WILL work in Netscape 7.x!
Note that these installs need to write to your Mozilla install directory, which means you need to have write access to this directory. If you are on a unixish system and installed your browser via your package management system, you'll need to be root.
See http://skillup.jp/venkman/ for Japanese localizations of Venkman and associated documentation.
| revision | description | install |
| --- | --- | --- |
---
[Up one level]
Last modified: Thu Aug 28 01:19:02 PDT 2003